More info
ALPENHEAT Heated Vest FIRE-SOFTVEST
Model: AJ9-OL without packaging
Freezing is a thing of the past! Cosy warmth with the heated FIRE-SOFTVEST!
The heated vest is made of 3-layered soft-shell material, with a flexible soft synthetic heating element embedded into the back of the vest.
It is windproof, waterproof and breathable, preventing wind and water getting through from the outside, but letting sweat easily escape, keeping you dry and pleasantly warm. It can be worn all year round with or without turning the heating on.
FIRE-SOFTSHELL is operated by a rechargeable battery, kept in the outside pocket. An additional feature is the battery level indicator, so you always know how much power you have. With 4 heat settings a simple touch of the button on the controller regulates the desired temperature, giving 2.5 to 7.5 hours of blissful warmth.
Designed for a wide range of outdoor activities like snow sports, hunting, fishing, spectator sports, golfing, hiking or just taking the dog for a walk the heated vest will keep you warm!
Features:
Heated soft-shell vest

3-layered soft-shell material

Stylish sporty design

Perfect protection against cold

Windproof

Waterproof (up to 8000 mm)

Breathable (up to 2000 mvp)

Washable up to 30°C

Colour: black

6 Sizes: XS, S, M, L, XL, XXL

Material: 100% Polyester, TPU membrane
Specs:

1. Heating element:
2. Alpenheat controller with battery pack:
High power rechargeable Li-Ion batteries 7.4V / 2.2 Ah / 16.3Wh

4 heat levels

Heating duration 2.5 – 7.5 hours

Push button operation

Battery level indicator

Small, light (130g) and compact (55 x 80 x 25mm)

3. Alpenheat Universal Battery Recharger 100-240V 50/60 Hz:
4. Sizes: unisex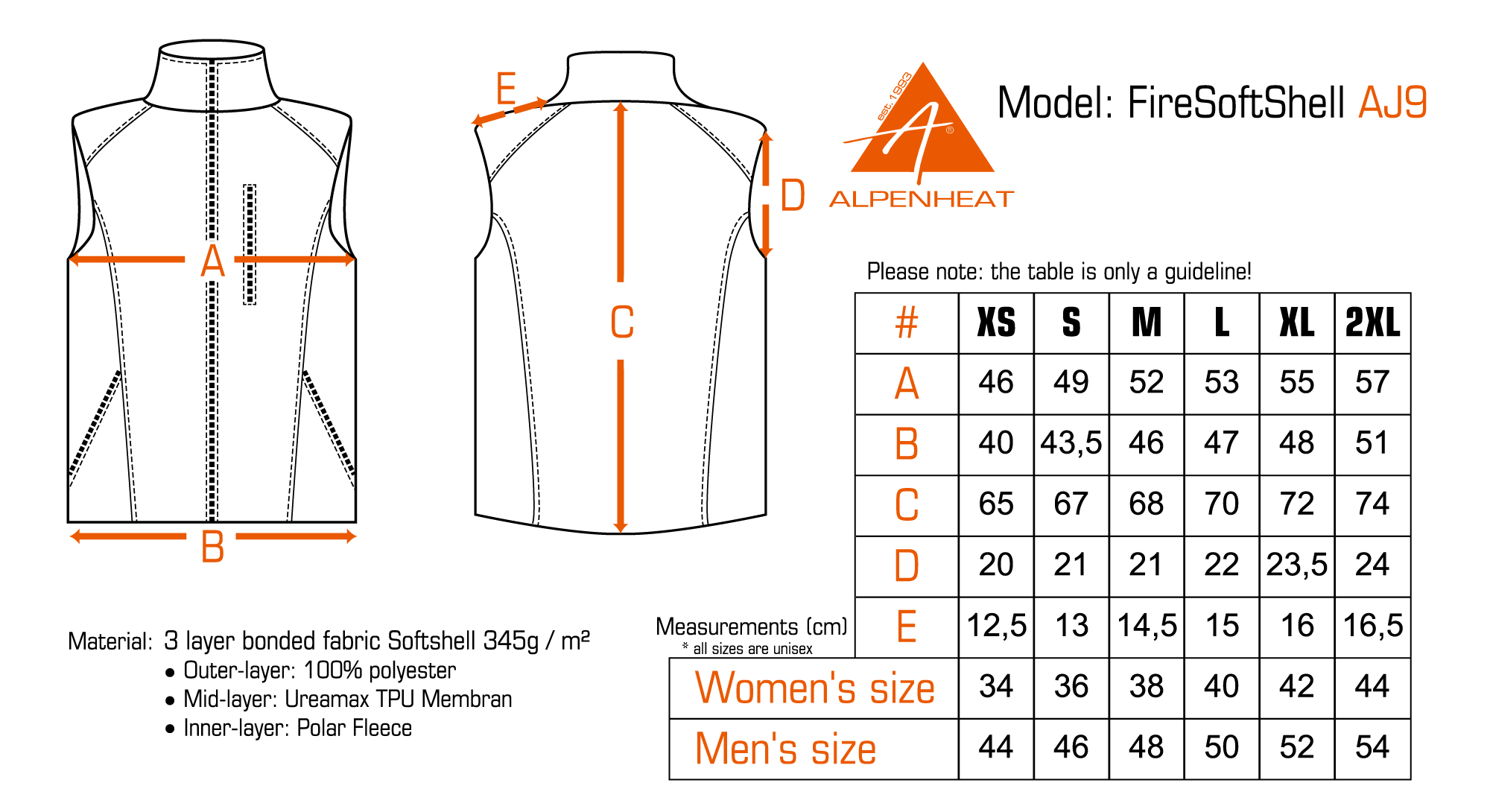 Set Content
1 soft shell vest (AJ9-OL)
1 battery pack (BP3)
1 charger (LG31)