More info
ALPENHEAT Heated Vest FIRE-AIR
Model: AJ35
THE HEAT IS ON! Freezing is a thing of the past, even on the coldest of days you will feel comfortably warm when wearing the heated FIRE-AIR vest!
The specially developed thermal fabric heat cell system is embedded in the back area of the vest. FIRE-AIR is operated by a rechargeable battery, kept in the outside pocket. An additional feature is the battery level indicator, so you always know how much power you have. With 4 heat settings a simple touch of the button on the battery pack regulates the desired temperature, giving 2.5 to 7.5 hours of blissful warmth.
The vest can be worn all year round with or without turning the heating on. Wear either on its own or underneath any coat, jacket or anorak.
The front and back of the vest are quilted with a comfortable, soft, warm insulation material. It is light, temperature and moisture regulating and extremely breathable.
The sides of the vest are made of stretch polyester, thus ensuring optimal freedom of movement.
Extremely versatile, wear during any sporting activity or in everyday life, whether inside or outside, whenever you are feeling cold or chilly.
Use whilst skiing, snowboarding, hunting, fishing, horseback riding, playing golf, hiking, bicycling or as a spectator watching an ice-hockey game or football match or just taking the dog for a walk.
People sitting in wheelchairs especially benefit from the warmth of the vest.
Features
Quilted heated vest

Stylish sporty design

Ideal mid-layer for wearing under coats/jackets/anoraks

Extremely versatile and allows full freedom of movement

Comfortable protection against cold and icy temperatures

Breathable

Washable up to 30°C

Colour: black

6 Sizes: XS, S, M, L, XL, XXL

Material

Outside: 100% nylon

Side: 100% polyester

Collar: 92% nylon, 8% spandex

Lining: 100% polyester

Insulation: 80g polyester
Specs:
1. Heating element:
2. Alpenheat controller with battery pack:
High power rechargeable Li-Ion batteries 7.4V / 2.2 Ah / 16.3Wh

4 heat levels

Heating duration 2.5 – 7.5 hours

Push button operation

Battery level indicator

Small, light (126g) and compact (57 x 80 x 25mm)

3. Alpenheat Universal Battery Recharger 100-240V 50/60 Hz:
Charging time approx. 4 hours

Can be used world-wide, a travel plug might be needed (not included in the set)
4. Sizes: unisex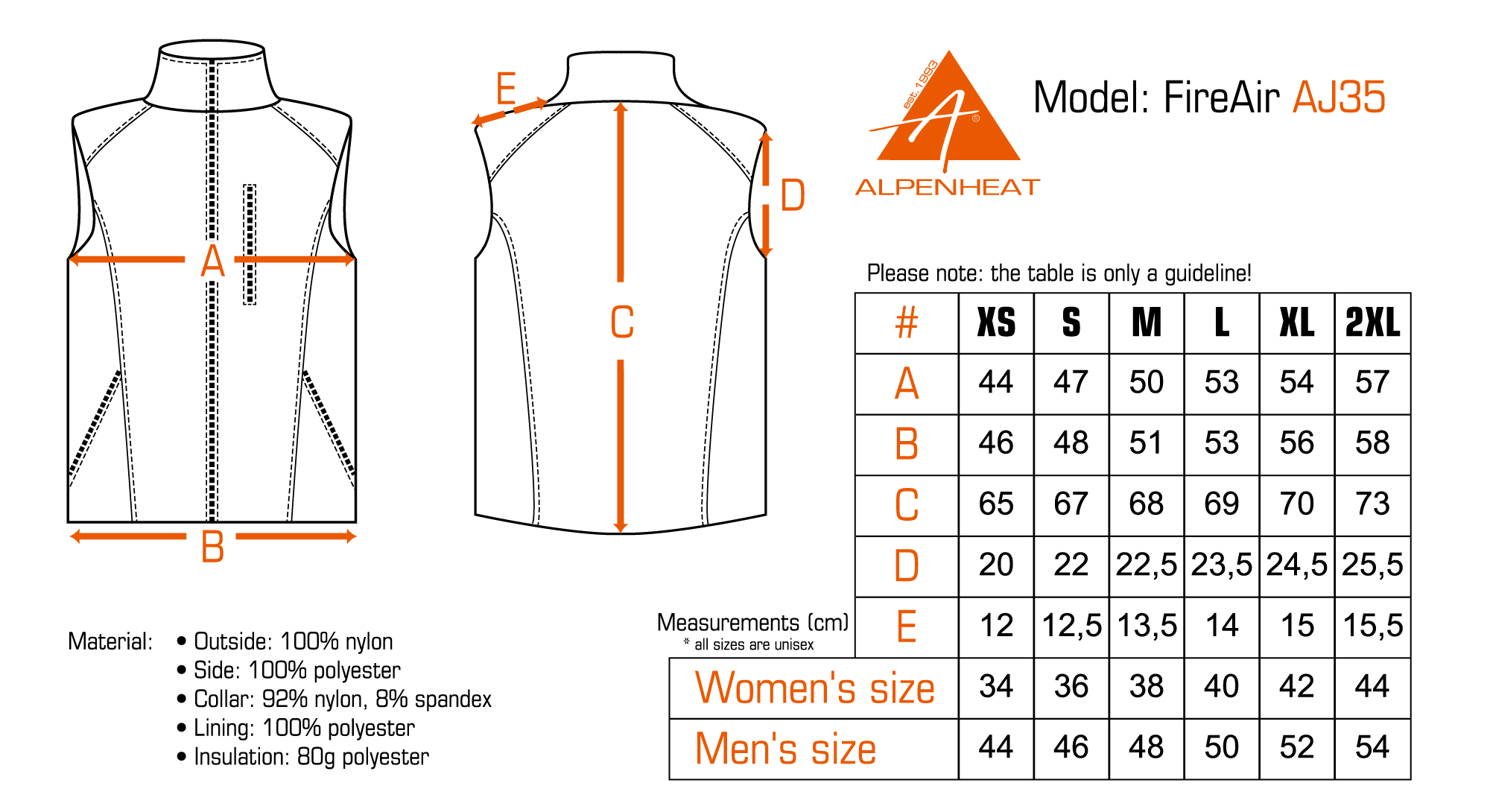 Set Content
1 quilted vest (AJ35)
1 battery pack (BP3)
1 charger (LG31)