Više informacija
ALPENHEAT Termo Rukavice FIRE-GLOVE Everyday
Model: AG8
The FireGlove Everyday, developed by ALPENHEAT, is an all-round glove that keeps hands and fingers warm in low temperatures and cold weather in everyday situations.
Whether at the Christmas market, shopping, walking, Nordic walking, hiking, running, hunting, ski touring or any activity which exposes your hands to the cold, the gloves keep your hands cosy and warm where you need it must in your fingers.
Thanks to the GORE® WINDSTOPPER® softshell material they are absolutely wind and waterproof. In addition the SK plush lining is lovely and soft and extremely warm.
The gloves are particularly recommended for people with poor blood circulation or suffering from Raynaud's syndrome.
The heating wire around your fingers and thumb gently and quickly warm your whole hand. The battery slips into the pocket integrated in the cuff of the glove.
Turn on the heat by simply pressing the power button on the outside of the gloves for instant relief.
Specifikacije

:
Termo Rukavice

:

Fleksibilne žice za grejanje duž prstiju
Dodirni materijal za upotrebljivost smart telefona
Pogodan za svakodnevnu upotrebu zbog robusne i izdržljive tkanine
GORE® WINDSTOPPER® softshell rukavice
SK softplush obloge
Kompletna dlanova
10 veličina: XXS - 3XL
Boja: crna
materijal:

Spolja: GORE® Windstopper®, mekana ovčija koža sa funkcijom dodira
Postava: SK softplush na vrhu i TT2 na dlanu

Alpenheat Controller sa baterijom

Li-Polymer baterije velike snage 7.4V / 2 Ah / 14.8Wh
Mali, lagani (75g) i kompaktni (50x80x10mm)
Efekat grejanja može se podesiti na 3 stepena
Trajanje grejanja 2,5 - 8,5 h
Aktivirajte pritiskom na dugme
Indikator nivoa punjenja baterije na tasteru

Alpenheat Univerzalni Uredjaj za punjenje: 100-240V 50/60Hz

Vreme punjenja ca. 4 sati
Може се користити широм света са путним адаптером (није укључен у испоруку)

Sizes: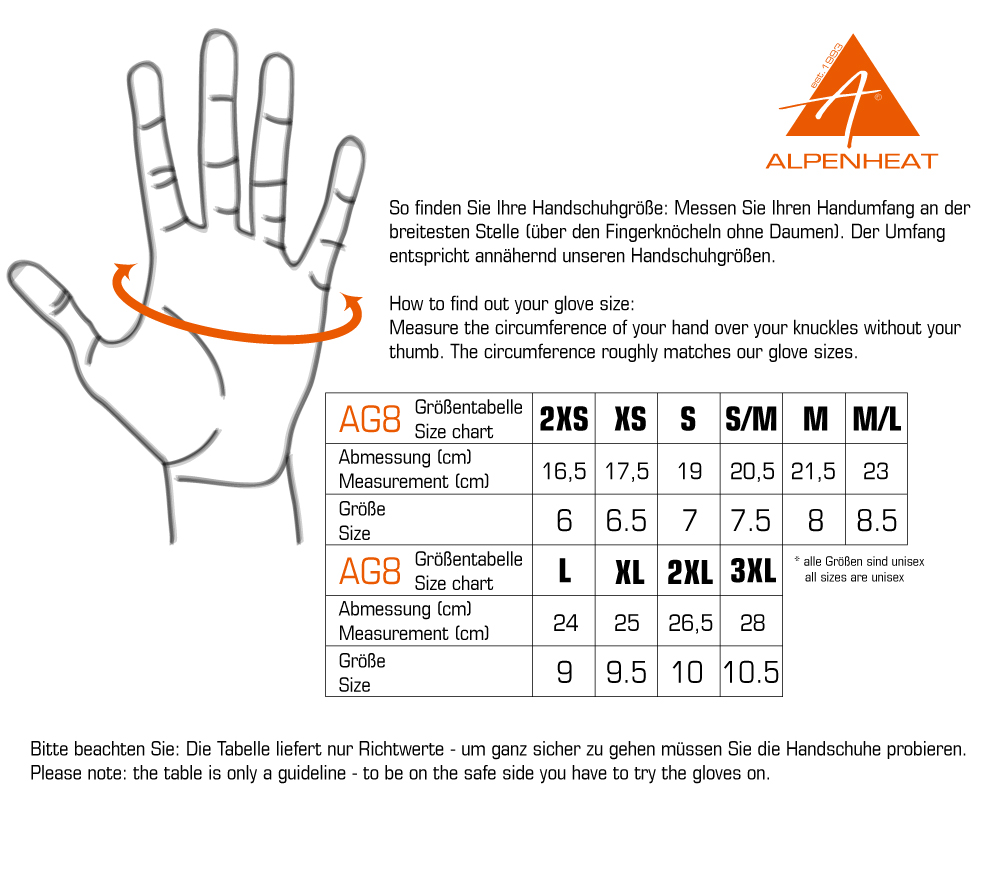 Садржај
1 pair of gloves (AG8), 2 battery packs (BP11), 1 charger (LG11)
*This brand belongs to a third party, with no connection to the manufacturer and/or distributor of this product.