Više informacija
ALPENHEAT grijani rukavice FIRE-GLOVE Everyday
Model: AG8
The FireGlove Everyday, developed by ALPENHEAT, is an all-round glove that keeps hands and fingers warm in low temperatures and cold weather in everyday situations.
Whether at the Christmas market, shopping, walking, Nordic walking, hiking, running, hunting, ski touring or any activity which exposes your hands to the cold, the gloves keep your hands cosy and warm where you need it must in your fingers.
Thanks to the GORE® WINDSTOPPER® softshell material they are absolutely wind and waterproof. In addition the SK plush lining is lovely and soft and extremely warm.
The gloves are particularly recommended for people with poor blood circulation or suffering from Raynaud's syndrome.
The heating wire around your fingers and thumb gently and quickly warm your whole hand. The battery slips into the pocket integrated in the cuff of the glove.
Turn on the heat by simply pressing the power button on the outside of the gloves for instant relief.

Specs:
grijani rukavice
Fleksibilne žice za grijanje duž prstiju
Dodirnite materijal za upotrebu pametnog telefona
Pogodno za svakodnevnu upotrebu zbog robusne i izdržljive tkanine
GORE® WINDSTOPPER® softshell rukavica
SK softplush obloga
Dovršite palminog dlana
10 veličina: XXS - 3XL
Boja: crna
materijal:

Vani: GORE® Windstopper®, mekan kožuh s dodirnom funkcijom
Podstava: SK softplush na gornjoj ruci i TT2 na dlanu

punjive Li-Polymer baterije visokih performansi 7.4V / 2 Ah / 14,8Wh
baterija: malena, lagana (75g) I kompaktna (50 x 80 x 10mm)
3 postavke grijanja
vrijeme grijanja: 2,5 - 8,5 sati
"Push button" (prekidač)
Indikator razine napunjenosti baterije na taster
punjač 100-240V 50/60Hz
vrijeme punjenja: 4 sata
Može se koristiti u cijelom svijetu s putničkim adapterom (nije uključen u isporuku)
Sata: Unisex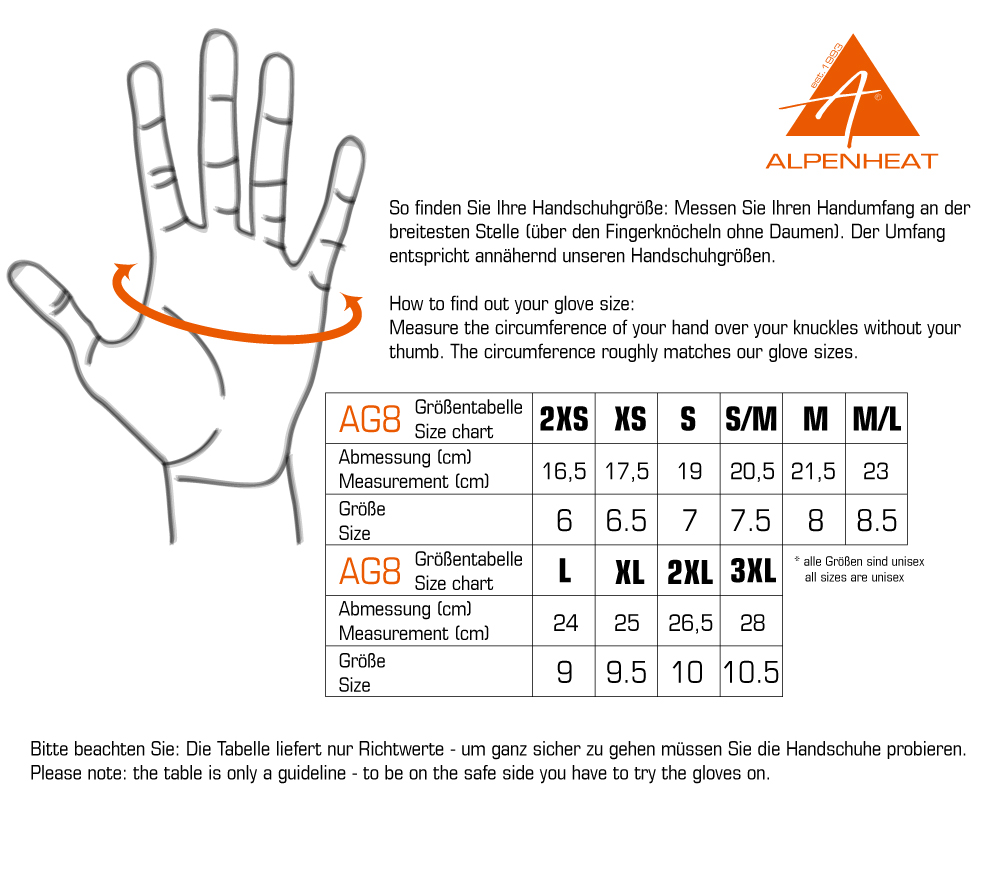 Set sadrži:
1 par grijanih rukavica (AG8), 1 punjač (LG11), 2 baterije (BP11)
*This brand belongs to a third party, with no connection to the manufacturer and/or distributor of this product.