Više informacija
ALPENHEAT grijani rukavice FIRE-MITTEN Reloaded
Model: AG7
The FireMitten Reloaded, developed by ALPENHEAT, is a sporty all-round mitten that keeps hands and fingers warm in low temperatures and cold weather. The special SK Isodry insulation stores heat and air, is lightweight and breathable. The SK shield insert of the mitten is stretchy, windproof and waterproof. In addition, the wind-resistant PrimaLoft® Performance Vista lining ensures optimal thermal comfort.
The heated mitten FireMitten Reloaded is ideal for skiers and snowboarders.
The heating element is designed to heat both the back of the hand and the top of the fingers, radiating heat to the fingertips.
The battery slips into the pocket integrated in the cuff of the mitten.
Turn on the heat by simply pressing the power button on the outside of the mitten for instant relief.
Specs:
grijani rukavice
Element grijanja na prstima i na stražnjoj strani ruke
grijani rukavice s SK štitnim umetkom, dugim rukavima, kabelskim čepom i trakom
SK Isodry Insulation i PrimaLoft® Performance Vista oblog osiguravaju optimalnu toplinsku udobnost
Dlana od kozjeg psa s dodatnim ojačanjima
10 veličina: XXS - 3XL
Boja: crna
Materijal:

Vanjski: Softstretch, mekana kozja koža, hidrofobna
Izolacija: SK Isodry
Polog: SK Shield
Podstava: PrimaLoft® Performance Vista
TT2 na dlanu

punjive Li-Polymer baterije visokih performansi 7.4V / 2 Ah / 14,8Wh
baterija: malena, lagana (75g) I kompaktna (50 x 80 x 10mm)
3 postavke grijanja
vrijeme grijanja: 2,5 - 8,5 sati
"Push button" (prekidač)
Indikator razine napunjenosti baterije na taster
punjač 100-240V 50/60Hz
vrijeme punjenja: 4 sata
Može se koristiti u cijelom svijetu s putničkim adapterom (nije uključen u isporuku)
Sata: Unisex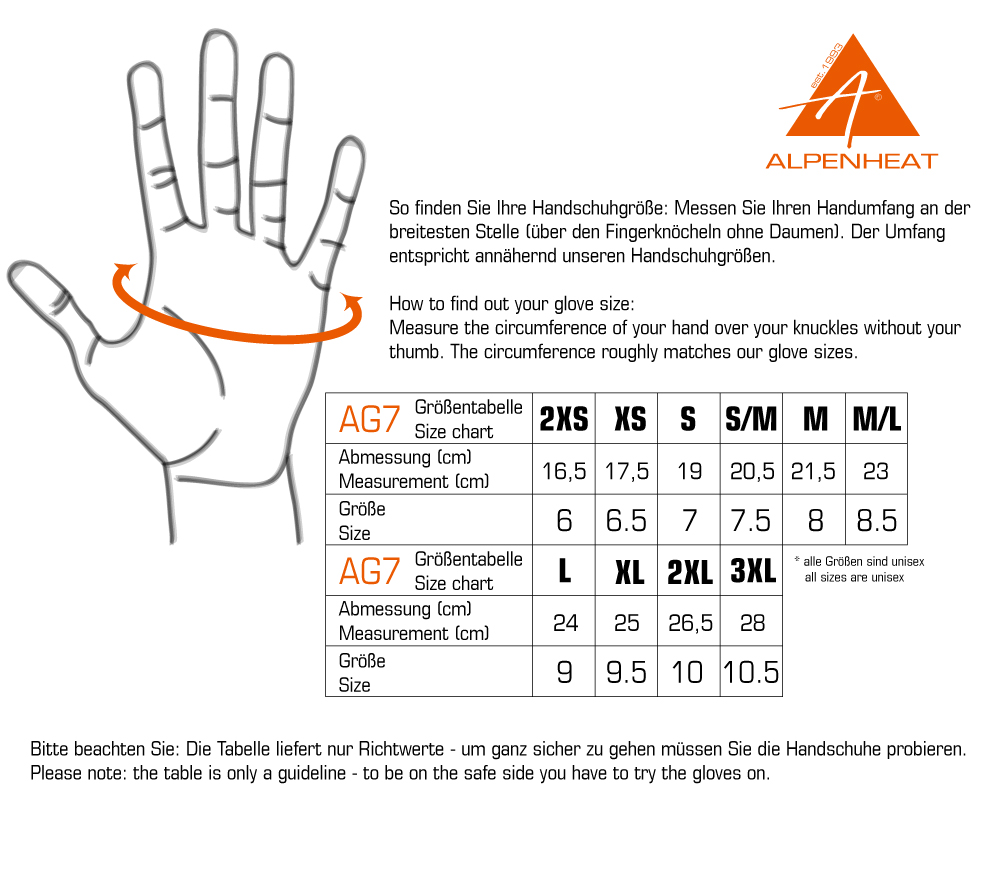 Set sadrži:
1 par grijanih rukavica (AG7), 1 punjač (LG11), 2 baterije (BP11)
*This brand belongs to a third party, with no connection to the manufacturer and/or distributor of this product.