More info
ALPENHEAT Heated Mittens FIRE-MITTEN DELUXE
Model: AG5-OL without packaging
FIRE-MITTENS keep you cosy warm where you need it most, in your fingers!
In cold conditions fingers are at risk. Body temperature begins to drop, leaving you feeling uncomfortable. Simply turn on the heated mittens for instant relief.
The heating element embedded in the mittens is designed to warm the back of the hand and the top of the fingers, the heat radiates out to the finger tips. The heated gloves have a Thinsulate lining for extra warmth and the multi-layer design makes the mittens soft, flexible, durable and comfortable to wear.
The power button switch is on the outside of the heated mittens, so no need to take your mittens off to adjust the heat setting. The battery packs fit snugly in the integrated pockets.
Heated mittens are great for hiking, skiing, Nordic walking, hunting and any activity which exposes your hands to the cold, as well as for those suffering from poor blood circulation or Raynaud's syndrome. Especially recommended for people in wheelchairs.
Specs:
1. Heated Mittens
Heated mitten
Windproof, waterproof, breathable
Flexible heating wire on top of the fingers and thumb and on the back of the hand
Colour: black
4 Sizes: S - XL
DINTEX Membrane and 3M Thinsulate and sheepskin
Material outside: 100% Nylon, lining: 100% Polyester, palm of hand: leather
2. Alpenheat controller with battery pack:
High power rechargeable Li-Ion batteries 7.4V / 1.7 Ah / 12.6Wh
Battery pack: small, light (86g) and compact (50 x 70 x 10mm)
3 heat settings
Heat duration 1 – 4 hours
Push button operation
3. Alpenheat Universal Battery Charger 100-240V 50/60Hz
Charging time approx. 4 hours


4. Sizes: unisex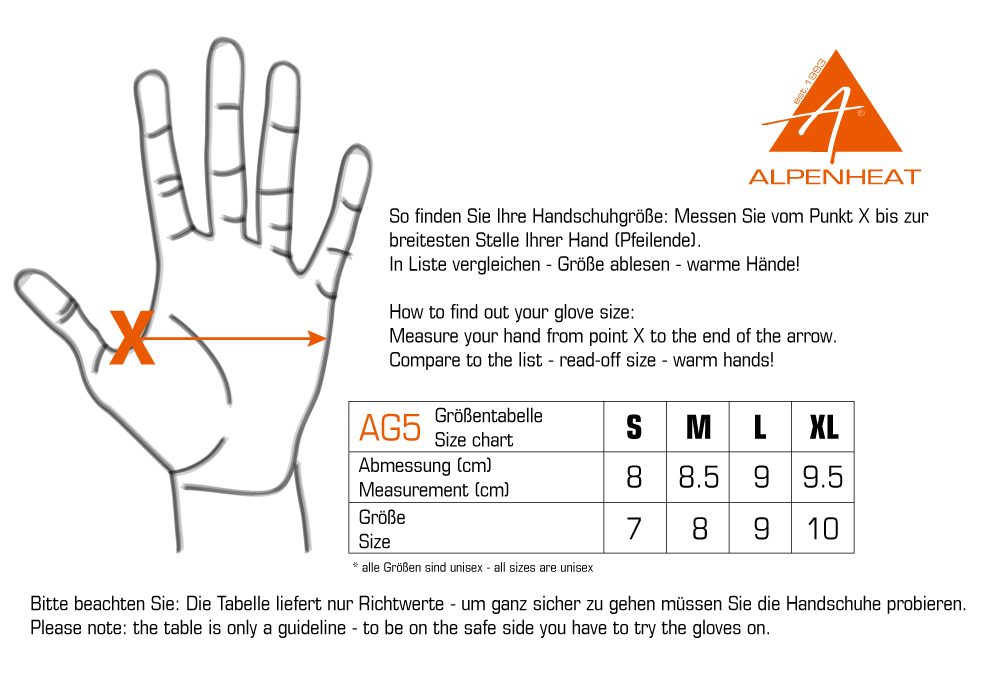 Set Content
1 pair of mittens AG5, 2 battery packs BP6, 1 charger LG4